Heosbox CO2: high efficiency solution for semi plug-in showcases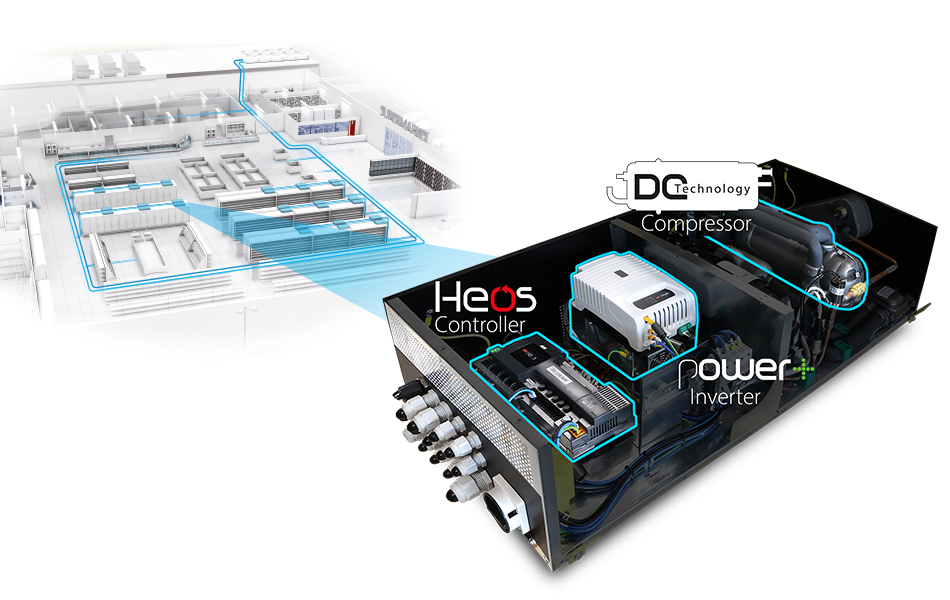 Heosbox for CO2 condensing units - alternatives to propane for water-cooled showcases with capacities in MT applications up to 14 kW and in LT applications up to 6 kW - has been fully designed and developed by CAREL, integrating Heos technology: variable speed BLDC compressors and electronic expansion valves.
This is a semi plug-in solution for waterloop systems, different from the classic centralised architecture with remote compressor racks and showcases supplied by long refrigerant distribution lines: the result is the possibility to optimise the operation of each single showcase and drastically reduce the risk of leakages.
Continuous modulation of performance:

Synchronisation of variable speed compressors and electronic valves

Maximum efficiency:

The decentralised approach and continuous modulation make it possible to adapt operation perfectly to the demands of the showcase in all conditions.

Higher food preservation quality:

Continuous modulation of the compressor and EEV electronic valves ensures exceptional
temperature stability in the showcases.

Advanced connectivity:

Supervisory system, main/secondary configuration, user interface with wireless connection.
Moreover, precise control of showcase temperature through continuous modulation of the load based on cooling demand increases the shelf life of the stored produce by up to 2 days. More information on this topic is available in the white paper entitled "Food preservation: how is it affected by temperature and humidity stability?".
CAREL has spent over a year in R&D to refine the components and improve the system's overall efficiency and reliability, focusing on synchronisation of the compressor and electronic valve, and implementing advanced control logic.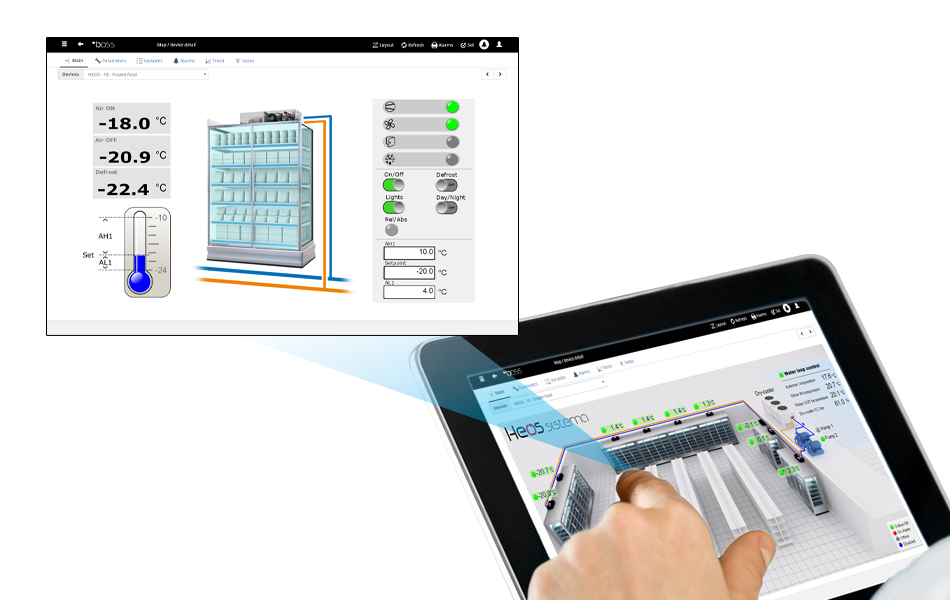 Heosbox is a programmable unit, quick to install and preconfigured, thus reducing commissioning times and costs. The 100% CAREL design and decades of experience in the field have made it possible to develop dedicated algorithms, made available in the form of intuitive dashboards and integrated with CAREL services, allowing not only complete monitoring, but also predictive and prescriptive actions.
Heosbox was previewed at ATMO World Summit 2022, with a speech by Sebastiano Di Lena and Marco Fusca. To find out more and get an answer to any questions you may have, don't miss the chance to relive our webinar!