High efficiency management for residential heat pumps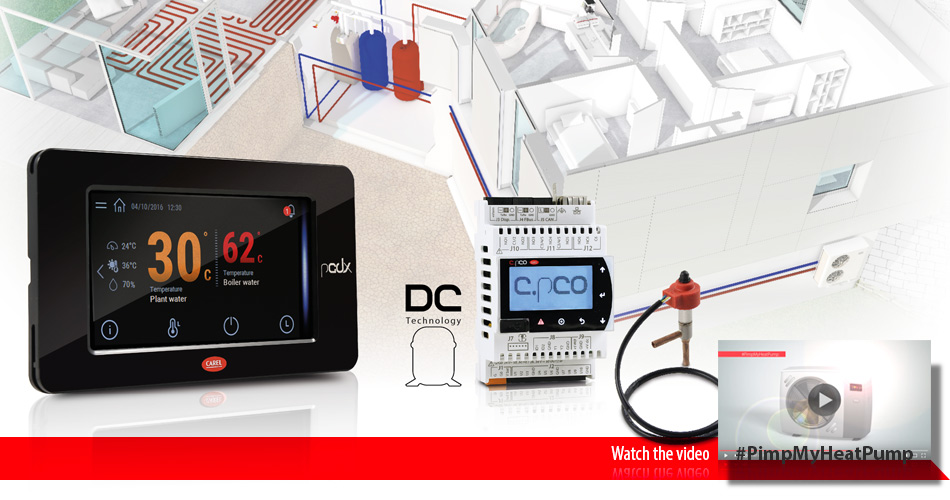 The heat pump market is now growing faster, aided by carbon emission reduction goals and the availability of more renewable energy sources. Governments are also investing a lot in promotions and tax rebates.
A standard c.pCO family solution could be used for small/medium OEMs (ready-to-use solution or with slight customisation) or as a starting point for custom developments with large OEMs.

Real increases in system efficiency (DC inverter + EEV)
Numerous tests performed in the lab have proven how the combined use of EEV technology and DC compressors guarantees a significant increase in heat pump efficiency and a reduction in running costs. The possibility to integrate high-efficiency devices makes our solution ready to fulfil the requirements of the new EU Energy Efficiency Directive.

Flexible use and energy savings with DC technology and the power+ inverter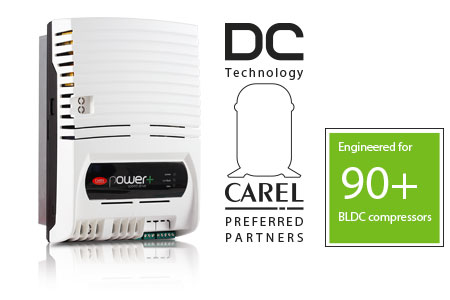 The use of DC compressors guarantees higher energy efficiency than any other technology available on the market, with a very wide range of cooling capacity modulation. The main features of DC technology are low noise, an excellent compressor size-power ratio, less maintenance and longer appliance life, due to the reduced number of ON-OFF cycles. CAREL has tested and certified more than 80-90+ models by different manufacturers in its labs, making them available for management by its c.pCO controllers: this guarantees complete control of the unit, with many software functions developed to guarantee operation in the most ideal conditions for the compressor, ensuring maximum reliability.
Software solutions to develop your ideas
The c.pCO controllers are completely programmable and can be configured using the c.suite development tool. The tool provides a vast range of libraries, with various functions implemented: from basic logical-arithmetic functions to complex control algorithms for managing various devices, both CAREL and third-party. The integration of these elements with the customer's own know-how, applied using standard and secure code, allows application design and development to make every system your system.
Residential HP solution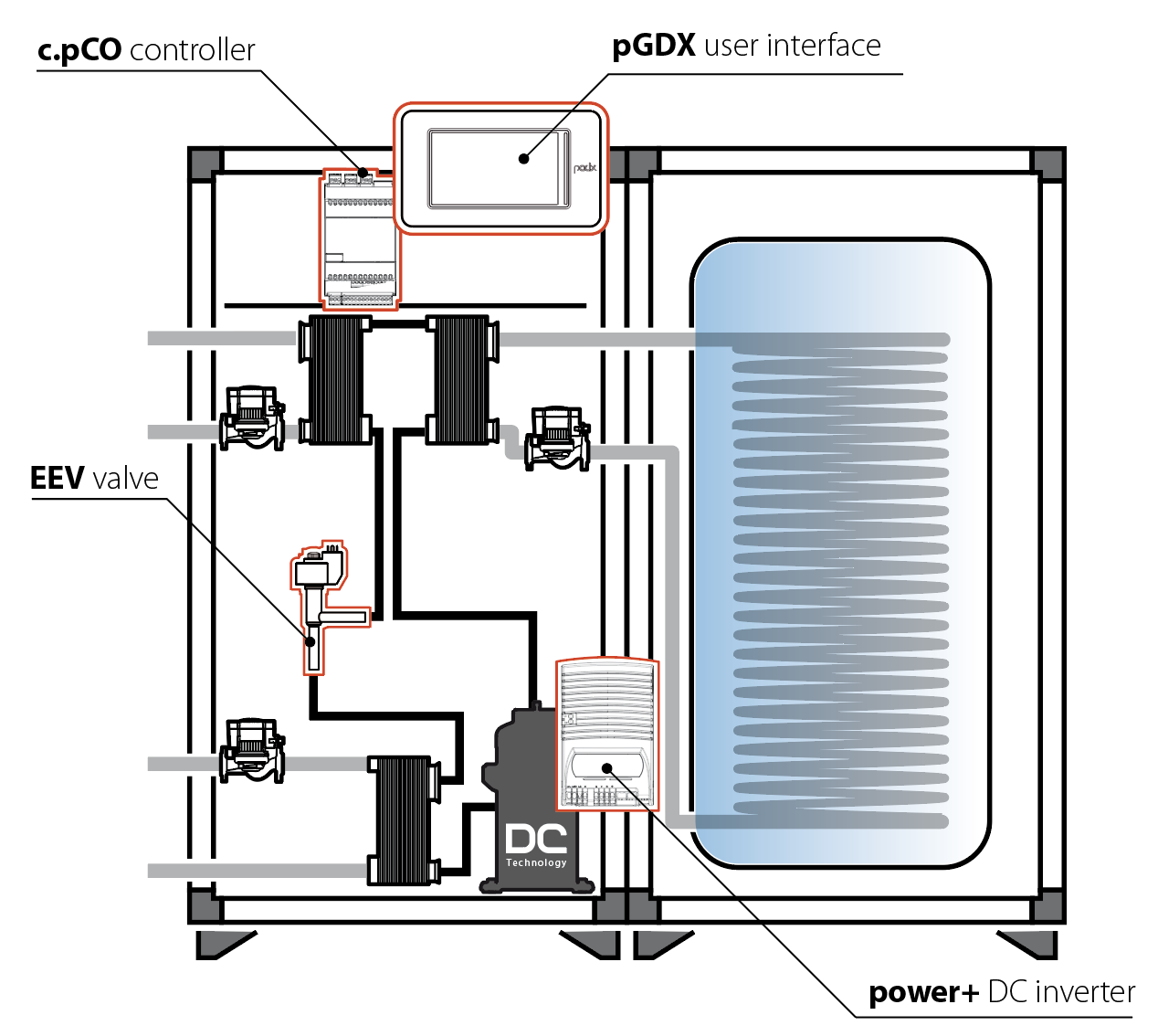 The software has been designed on the c.pco programmable controller platform:
Benefiting from the features of the new c.suite development environment;
Real Time operating system for high performance;
Leveraging Carel know-how in solutions for DC chillers and High Efficiency solutions with focus on residential applications;
We have developed a complete platform for the management of advanced units, so as to fulfil current market requests for energy saving and better performance. The software can be used as-is to let any manufacturer quickly create and start-up an efficient heat pump. The flexibility of the c.pco control platform allows our customers to adapt our control system, in a few easy steps, to their envisaged unit layout.
The main functions provided by the software include
Primary water (heating/cooling) and domestic hot water
Air-to-Water / Water-to-Water / Brine-to-Water models supported;
CAREL energy saving devices: power+ DC inverters, EEV;
Modulating control of external devices (fan, pumps, heaters);
Dynamic control of operational limits for high efficiency;
Defrost, Antifreeze, Anti-legionella, Climatic curves and other specific functions for the residential unit market;
Compatible with our PGD1, pLDPRO, PGDX user interfaces.

Vast range of room terminals and devices for all needs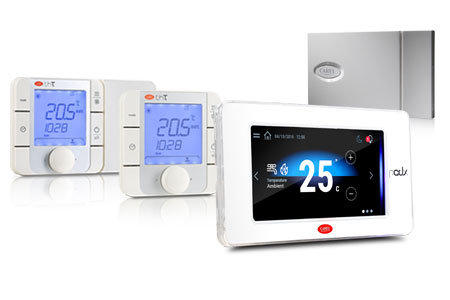 In addition to the classic unit terminal, the CAREL solution also offers a range of user interface solutions to suit all needs: from the
thT terminal
with serial probes for room control, to the
pGDx
colour touchscreen devices, available in various formats and completely programmable according to customer requirements.