pGDX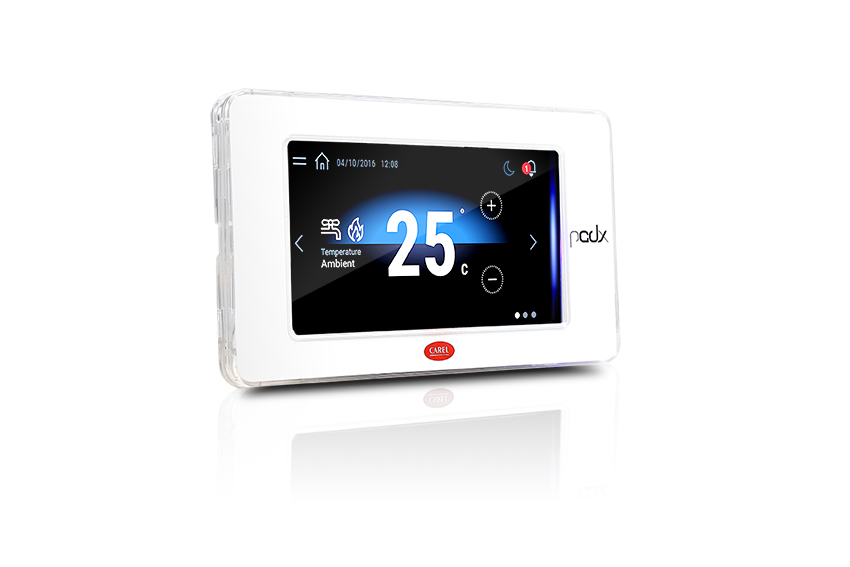 A new user interface
Evolution of the CAREL pGD family displays, this new version, pGD EXPERIENCE or pGDX for short, has been designed to offer an improved user experience. Combining aesthetics and performance, user simplicity and consistency with the past, everything on this display has been conceived to simplify access to the available information.

Main features
Bar notification

T/H sensor

The display's neat and elegant aesthetics conceal a major new innovation: a LED bar featuring different coloured notifications. At any time, and without needing to move close to the display, users can clearly identify unit status. Each colour can in fact be associated with a different state or alarm, allowing the user interface to "speak" visually. Even when the display is in standby, users can at a quick glance check unit status and verify any alarms, with a maximum of eight different notifications available.

pGDX also stands out from other displays due its built-in temperature and humidity probe. This new feature offers important benefits for a room terminal: rather than two separate devices, the display alone can manage both functions.

Front USB

pGD compatible

Another innovative feature is the positioning of the USB port at the front, simplifying connections without requiring special tools. The elegant design however means the USB port is hidden from view, neatly concealed behind the faceplate, while still being easy to access.
The innovations introduced on pGDX have been developed in such a way as to ensure continuity with tradition: the mounting arrangement allows simple replacement of the current pGD1 solution, maintaining the same dimensions and connections, while the new touch graphics also incorporate the interface developed for the previous generation of displays.