Gas-fired steam humidifiers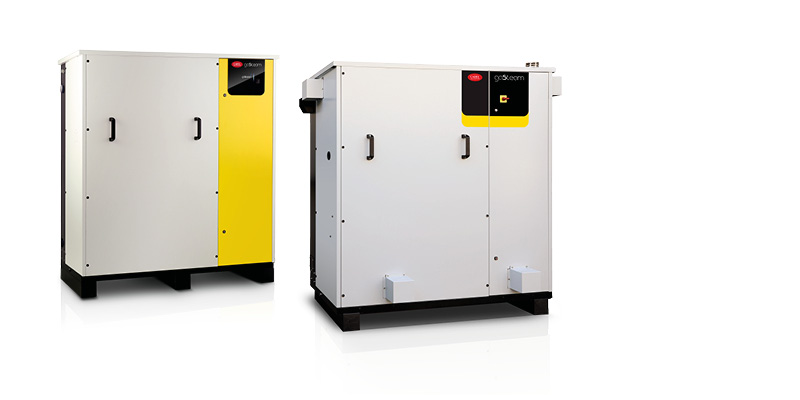 Plus

continuous modulation from 25 to 100% (12.5% for the 180 kg/h model);

precision: ± 2% RH;

pre-mix, room-sealed burner with forced ventilation;

air/gas control valve with double safety closing;

stainless steel boiler and heat exchanger;

pre-heating function for a faster response;

supply with mains water or demineralised water. The controller can be set for use with softened water, within the limits described in the reference tables;

frost protection function;

temperature sensor in the flue gas outlet that checks for malfunctions, and provides early warning of excessive scale on the heat exchanger;

flame detector in the burner that closes the gas valve in the event of malfunctions;

patented AFS antifoam system with corresponding sensor;

multi-stage water level sensor;

automatic water drain after 3 days of inactivity

automatic water conductivity control system to avoid corrosion.

low NOx emissions;

General characteristics

CAREL's extensive experience in the humidification sector has led to the development of gaSteam, the range of gas-fired humidifiers, available in 45, 90 and 180 kg/h models. gaSteam runs on natural gas or LPG, and is fitted with a sophisticated built-in electronic controller that can also manage other types of gas by simply setting a number of burner calibration parameters.




The exclusive design of the heat exchanger ensures very high efficiency (94-96%) and easy maintenance. Made from stainless steel, it guarantees long life even in heavy-duty operation.




The price gap between gas and electricity makes gaSteam the ideal choice for more high load applications, where steam is required many hours a day, allowing savings in the thousands of euro per year. Continuous modulation of steam flow-rate means the appliance is also suitable for precision applications. gaSteam can operate on drinkable mains water or demineralised water (R.O.). Easy to install, it features a room-sealed combustion chamber with premix burner, and gas valve with double mechanical closing; furthermore, it is fitted with multiple safety devices and comes with ETL and CE certification (issued by TÜV-DVGW).