Centralised steam distributors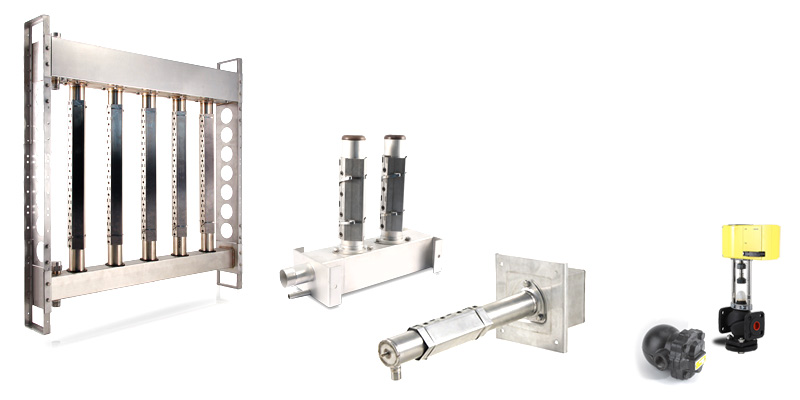 Plus

the nozzles are distributed across the entire height of the uprights, so as to deliver steam uniformly and guarantee a very short absorption distance;
energy saving thanks to the insulation of the uprights that minimises the formation of condensate inside the distributor as well as heat gain in the air;
Hygiene: ultimateSAM is made from AISI 304 steel;
ultimateSAM is a complete system, featuring valves with electrical actuators for accurate modulation of steam delivery into the AHU/duct;
different configurations of ultimateSAM are available to meet the needs of different applications, always with high steam flow-rates and short absorption distances (even less than 300 mm);
the single upright version comes with insulation and is supplied with a manifold that acts as a condensate separator

General characteristics

ultimateSAM is a pressurised or atmospheric-pressure steam distributor, designed to distribute dry steam uniformly and efficiently in ducts or air handling units. SAM stands for Short-Absorption Manifold, meaning a steam distributor with a short absorption distance (even less than 300 mm).

It has been designed to be "made to measure" for the AHU or duct, while ensuring low air heat gain (max. 2 °C/4 °F). All of the metal parts installed inside the AHU or duct are made from AISI 304 steel, so as to guarantee hygiene and a long operating life.

The features of the ultimateSAM steam distribution system make it the perfect system for all AHU/duct humidification needs, providing designers, installers and service personnel with the best possible solution.

The wide range of products, with a vast choice of steam flow-rates and numerous options, make it the ideal system for various applications, including hospitals and the pharmaceutical industry.