ir33 series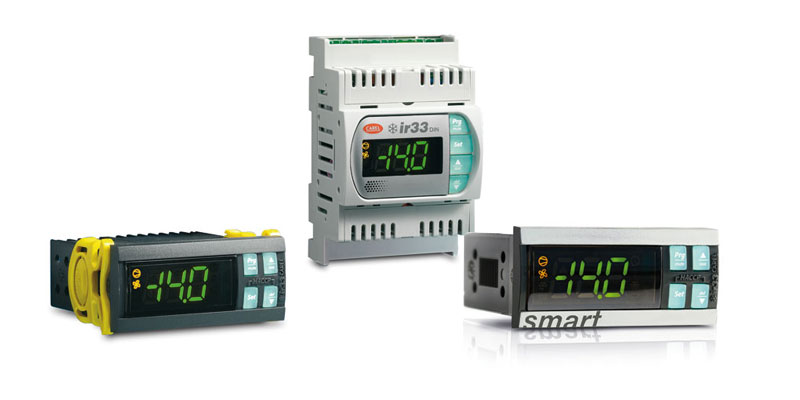 Plus

The ir33 for refrigeration is made up of electronic microprocessor controllers with green LED display and graphic symbols to assist the user.
These controllers are designed especially for the management of refrigeration units, with characteristics that make them ideal for use in all types of applications.
The main characteristics are:

range: to satisfy all control needs, numerous models are available with different outputs (from 1 to 4) and with 1 or 2 programmable digital inputs;
flexibility: models are available with 12 Vac, 12/24 Vac/dc, 230 Vac and 110/240 Vac power supply, for panel installation;
smart defrost management;
serial connection: all the controllers are fitted with network connections for the creation of supervisor and telemaintenance systems;
certification: the quality and safety of the infrared controllers are guaranteed by the ISO 9001 certified design and production system, as well as the CE mark

General characteristics

ir33 represents the maximum that CAREL technology has to offer in the field of applications for refrigeration. The four base versions (12Vac, 12/24Vac/dc, 230Vac and 115/230Vac) give rise to a vast range of products in different configurations. One particularly innovative version is the 115/230Vac model with built-in switching power supply, 4 relays and clock, all in the same size as the current ir32 range. For manufacturers CAREL offers the 230Vac version: more compact than the other versions, with a more essential configuration and consequently more competitive in terms of price. The 12Vac and 12/24Vac/dc models represent the evolution of the ir32 series and are designed, due to their similarity, to be their natural replacement. The operating logic follows the same lines, and the appearance reflects a number of the same characteristics, however the functions have been enhanced: the changeover from the previous range to the new version is thus simple and beneficial. Most of the models are fitted with a 16A (3/4 Hp) relay for controlling the compressor.