easy series for display cabinets, showcase and refrigerated cabinets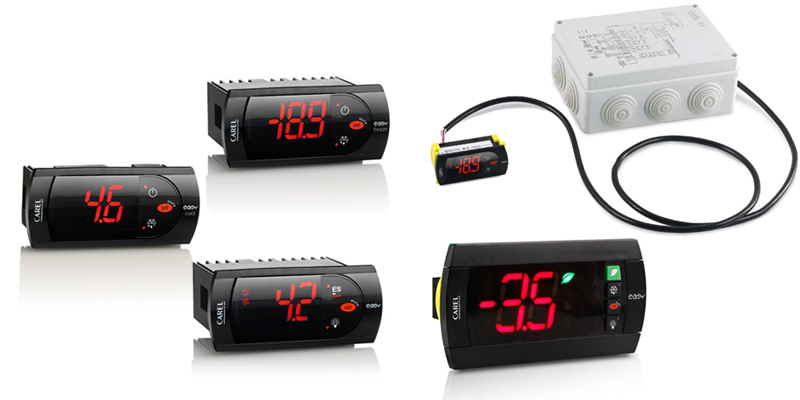 General characteristics

CAREL, the leader in cooling control, offers the refrigeration market the best of its parametric controller technology in one innovative product: easy.


Our in-depth knowledge of the applications in this sector long with the needs of the market has allowed CAREL to design a technologically advanced product with a simple approach.
easy is the expression of CAREL's decades of experience in refrigeration and the special care it has always paid to details. With easy, CAREL offers the market a product designed specifically for refrigeration control for bar, catering, display cabinet and refrigerated showcase applications, designed based on feedback "from the field", with an elegant and modern design.
easy is a range with a wide choice of models, including a compact version that is ideal for environments in which space is a crucial element.
easy is the best choice for simply and effectively managing the complex world of refrigeration control.

Plus

ON/OFF function: the unit can be switched ON/OFF either from digital input or directly from the keypad.
Flat keypad: the keypad is one of the most innovative aspects of this instrument. The completely flat surface allows easy cleaning and ensures greater hygiene, in complete compliance with the HACCP directive.
High efficiency display: to ensure greater visibility and simplify the reading of the values and the operating status, the height of the digits has been increased by 27% compared to traditional displays. Decimal resolution is available on all easy and easy compact models. easy is available with red, green or blue LED display.
Front panel IP65: the high index of protection (IP65) means easy can also be installed in more humid and aggressive environments. Special care has been paid to the development of the front panel, with integrated gasket and flat keypad. A special adhesive is also available for protecting the instrument against dripping and/or condensate that may form inside the electrical panel.
Front mounting and customisation: CAREL was the first to introduce the innovative front mounting system, faster and more practical than the traditional method, available as standard on all models. The removable faceplate can be customised, allowing the instruments to be perfectly integrated with the design of the application.