Electronic expansion valves - ExV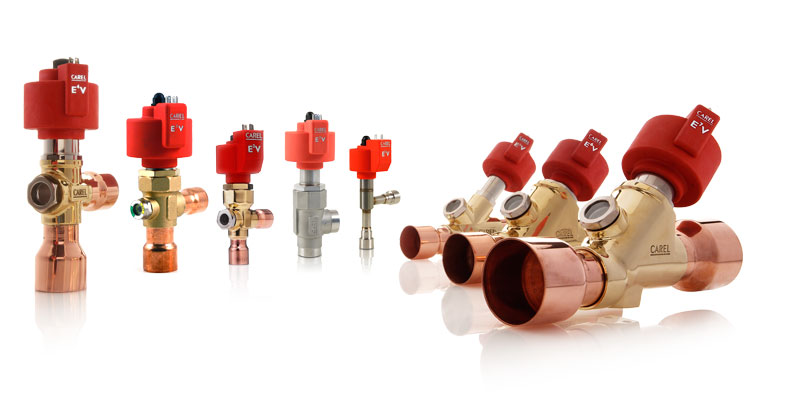 General characteristics

Selection Tool. CPQ is CAREL's tool for selecting electronic expansion valves (and more), available at cpq.carel.com. Multiple working conditions, complete list of codes, detailed information and links to documentation are just some of the main features of the valve selection module in the CPQ platform. More information


Carel electronic expansion valves are designed to meet any cooling capacity requirements up to 2000 kW in air-conditioning and refrigeration applications, and stand out above all for their excellent flow control, even at lower flow-rates.
Carel expansion valves have three main strengths:
1. Reliability over time: the standard design process used for the Carel ExV valves includes accelerated life testing of 1*106 cycles; the valves are certified in accordance with the main national and international standards; compliance with these standards guarantees maximum quality of both the products and the manufacturing process, as well as continuous commitment to improving the environmental management system.
2. Very precise control: this is guaranteed by Carel electronic controllers, designed especially to optimise management of air-conditioning and refrigeration systems, with special focus on energy saving. In addition, highly precise control is also assured by the special shape of the movable elements, guaranteeing flow with an equal percentage characteristic, the stroke length, achieved by using stainless steel ball-bearings, and the use of high precision mechanical components.
3. Perfect refrigerant tightness: despite the rotary motion of the motor, the movable element does not rotate during movement. This allows the use of a high quality Teflon seal, which rests gently on the valve seat, without any sliding. To improve tightness of the seal, an elastic steel spring is fitted that pushes the movable element against the seat when the system is closed: this moreover allows the motor to complete a number of extra turns before stopping. The energy accumulated by the spring in this stage gives additional energy to close the valve, meaning tightness values that are comparable to those provided by a traditional solenoid valve.
Finally, testing of 100% of the valves manufactured provides a further guarantee of reliability over time and valve tightness, and helps ensure operations with a reduced environmental impact.
Other important features that characterise Carel valves include:

Removable external stator
Simplified movement mechanism, with direct transmission from the rotor to the movable element
Use of high quality materials: stainless steel, copper, brass, composites
Perfect tightness when valve closed
Significant reduction in energy loss when starting the system
Very wide range of models and sizes available, to meet all systems requirements

Our specialised technical staff can provide customer support both before and after sales, and provide answers to any questions on the installation and operation of Carel valves.