« Back
Office comfort: air humidity control using gas-fired humidifiers.
08/04/2014
Office comfort: air humidity control using gas-fired humidifiers.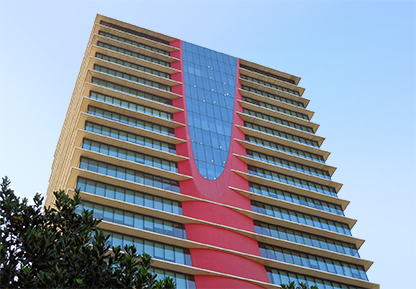 Torre Realia BCN is part of the recent development that has become the symbol of the new Barcelona financial district. The buildings were designed as complementary sculptures, with organic and supple forms, by architect Toyo Ito, in collaboration with Fermín Vazquez.
The Torre Realia building has 24 floors, used as offices; construction was completed in May 2009, after three years' work. The building has a total floor area of around 45,420 sq.m, and is 110 metres tall.
To ensure an optimum work environment inside the offices and consequently the best possible conditions for personnel, Carel was asked to install a specifically-designed humidification system.
Given the specifications and the size of the building, and to meet energy saving requirements, it was decided to use a product that exploits the affordability of gas, a fuel already used in the building for other applications, installing 6 gaSteam units. The price gap between gas and electricity in fact makes gaSteam the ideal choice for these types of installations, where steam is needed many hours a day, allowing savings running into the thousands of euros every year.
The ventilation and air-conditioning system is switched on just before opening times, completely independently, and likewise is switched off at the end of the working day, thus avoiding unnecessary operation when the offices are closed.
gaSteam uses demineralised feedwater, meaning less maintenance is required on the units and thus further limiting running costs.
The design was managed in collaboration between Carel Iberica and Cofely, a leading Barcelona design firm that works throughout Spain and abroad (for example, in France and Italy). The firm knows Carel's products very well, having worked with us for some time now, and is especially interested in the potential of gaSteam.
The customer is very satisfied with the work done, the service provided by Carel and operation of the units.
Latest Success Stories